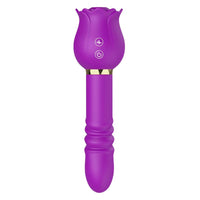 Rose Telescopic Toy - 12 Frequency Vibration Suction
Description
The Rose Telescopic Toy is designed to take your pleasure to new heights, offering a range of features that will leave you craving more. Let's delve deeper into what makes this toy a truly remarkable addition to your intimate moments.

One of the standout features of the Rose Telescopic Toy is its fast piston retraction and retraction. This unique mechanism provides a dynamic and thrilling experience that mimics the passionate rhythms of lovemaking. It adds an extra layer of intensity and realism, transporting you to a world of heightened sensations and pleasure.

With full body waterproof capabilities, this toy opens the doors to a world of aquatic exploration. Whether you prefer the soothing embrace of a warm bath or the titillating adventure of a steamy shower, the Rose Telescopic Toy is your perfect companion. Immerse yourself in the blissful sensations as water and pleasure intertwine for an unforgettable experience.

The convenience of USB charging ensures that your pleasure never has to wait. Simply plug in and let the toy recharge quickly, so you can enjoy continuous pleasure whenever desire strikes. The Rose Telescopic Toy's strong battery life ensures that it will keep up with your insatiable appetite for pleasure, allowing you to fully indulge in your intimate moments without any interruptions.

Featuring 12 frequency vibration suction, this toy offers a variety of intensities to suit your mood and desires. Whether you prefer a gentle caress or a powerful surge of pleasure, the Rose Telescopic Toy has you covered. Explore the different modes and discover the perfect combination that leads you to breathtaking climaxes time and time again.

Privacy is paramount, and that's why the Rose Telescopic Toy is designed for a full score mute effect. Enjoy your moments of pleasure without worrying about unwanted interruptions. Indulge in complete privacy, savoring every sensation as you surrender to the ecstasy that this toy provides.

The Rose Telescopic Toy is part of the renowned Rose Vibrator Series 10, featuring 12 variable frequency suction modes. These modes are carefully crafted to emulate the sensations of a passionate connection, offering a unique and immersive experience that will leave you breathless. Get ready to let the Rose Telescopic Toy bring you closer to the pleasure you desire, evoking sensations similar to the touch of a lover.

Are you ready to unlock a world of pleasure with the Rose Telescopic Toy? Brace yourself for an extraordinary journey of intimacy, stimulation, and excitement. Allow this remarkable toy to awaken your senses and elevate your pleasure to new heights. Get ready to embark on an unforgettable adventure that will leave you craving more.
Key Features
1. Fast piston retraction and retraction for dynamic and realistic pleasure.
2. Full body waterproof design for indulging in aquatic adventures.
3. Convenient USB charging for quick and hassle-free replenishment.
4. Strong battery life to keep up with your insatiable cravings.
5. 12 frequency vibration suction for a wide range of intensity options.
6. Easy one-button control to switch between intensities and reach climactic moments.
7. Full score mute effect for complete privacy during your intimate moments.
8. Part of the Rose Vibrator Series 10 with 12 variable frequency suction modes.
9. Sensations that mimic the sensations of a passionate connection.
10. Crafted for mature, professional, and inviting experiences.
1. How much does shipping cost?

You can enjoy free shipping on orders over US$69. Otherwise, it costs US$3.5.

If you order items in clearances or free items, you will be charged for shipping fee separately.

If you need express shipping, you could choose it at checkout, which costs US$25 (not available at the moment).

PS. We have free shipping site-wide promotions during sale season. Stay tuned!



2. Will I have to pay taxes?

Each country has its own customs rules and policies. Please contact local customs for more information. If, in rare cases, import duties or taxes are charged, the customer is responsible for paying them.



3. How long will it take for my order to arrive?

Total delivery time = processing time + shipping time

(not including customs delays, weekends, holidays and any unforeseen circumstances)

Processing Time: 1-2 business days

Standard Shipping Time: 6-9 business days

PS. For orders to South America and the Russian Federation, shipping may take more than 1 month due to transport and customs issues.


4. How can I track my order?

Once your order is shipped, we will send you an email with the corresponding information. After that you will be able to track your order at https://www.17track.net/en. Please allow 1-2 business days for tracking information to be available.



5. What if the package doesn't arrive?

If you don't get your package 60 days after it was shipped, please contact us at support@rosezoe.com. We'll either resent a new one to you or give you a full refund.



7. Can I cancel or change my order?

If you would like to cancel or make changes to your order, please contact us within 24 hours after you made the order. No cancellation or changes could be applied to the order once it goes into preparation for delivery.
The surface of all rose toys is made of safe silicone
Interior contains ABS plastic