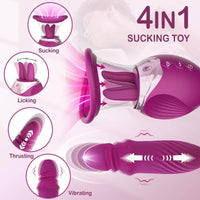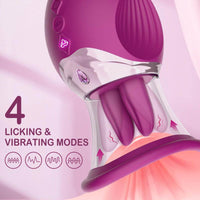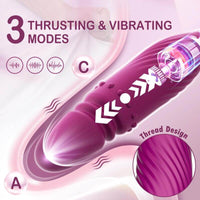 Description:
Embark on an expedition of exquisite pleasure and intimate exploration with our Rose Sucker. Elegantly designed with a soft, premium silicone exterior, this enchanting vibrator promises a lush garden of sensations awaiting your discovery.

As you delve into its offerings, a beautifully contoured shaft with gentle rippling massages your inner garden, targeting the G-spot with a tantalizing thrusting swivel at your choice of three tender speeds. Concurrently, the clitoral stimulator cradles your bud, offering a caress of delightful suction, tender licking, and harmonious vibrations, effortlessly intertwining pleasure with comfort.

The Rose Sucker is more than just a solitary journey—it's an invitation to a dance of intimacy. Share the joy with a partner; let them tend to your garden, or alternatively, explore their landscape of desires. The endless ways to explore and the multiple sensations to experience make this vibrator a versatile companion to both your solo and shared romantic escapades.

Adventure further without concern, as this waterproof companion accompanies you in a pool, shower, or bathtub, making every moment an opportunity for blossoming pleasure. Recharging is a breeze with the included USB cable, and cleaning is effortless thanks to its waterproof design.

We prioritize your privacy; the Rose Sucker arrives in a discreet box, ensuring your garden of pleasure remains your personal secret. Compact yet powerful, quiet yet robust, this vibrator is not only a tribute to sensual fulfillment but a testament to enduring quality.

Whether it's a gift for yourself or a cherished one, the Rose Sucker is a promise of many blossoming delights. Its gentle suction beckons, its rhythmic vibrations allure, and its thoughtful design invites. Your garden of pleasure is ready to bloom; are you ready to explore its wonders?


Key Features:
Multifaceted Sensations: The Rose Sucker offers a rich array of sensations including thrusting, licking, vibrating, and suction, providing a comprehensive pleasure experience.

G-spot Targeting: With its uniquely contoured shaft featuring gentle ripples, it aims to provide precise G-spot stimulation enhancing the intimate exploration.

Clitoral Stimulation: The clitoral stimulator with its tender suction and playful licking, brings a harmonious blend of external pleasures, amplifying the overall experience.

Dual Pleasure: Designed to stimulate both internally and externally, it fosters a more wholesome and gratifying experience.

Couple-Friendly: It's not just a solo adventure; sharing the Rose Sucker with a partner opens up a new realm of intimate play, making it a versatile addition to couple's play.

Waterproof Design: Whether in the shower, bathtub, or pool, its waterproof design ensures the fun never has to pause, also making cleaning a breeze.

Rechargeable and User-Friendly: Comes with a USB charging cable making it easy to recharge, and its intuitive controls make it user-friendly.

Premium Silicone Construction: Its soft, high-quality silicone exterior ensures a comfortable and luxurious feel.

Discreet Packaging: Your privacy is valued with discreet packaging, making your purchase and possession private and confidential.

Durable and Portable: Its durable construction paired with a compact design makes it a reliable and portable choice for on-the-go pleasure.

Quiet Operation: Engineered for quiet operation, it ensures your intimate moments remain personal and uninterrupted.

Perfect Gift Option: Its elegant design and premium features make the Rose Sucker a thoughtful gift for yourself or a loved one, aiming to enhance intimate moments and ease daily stress.
1. How much does shipping cost?

You can enjoy free shipping on orders over US$69. Otherwise, it costs US$3.5.

If you order items in clearances or free items, you will be charged for shipping fee separately.

If you need express shipping, you could choose it at checkout, which costs US$25 (not available at the moment).

PS. We have free shipping site-wide promotions during sale season. Stay tuned!



2. Will I have to pay taxes?

Each country has its own customs rules and policies. Please contact local customs for more information. If, in rare cases, import duties or taxes are charged, the customer is responsible for paying them.



3. How long will it take for my order to arrive?

Total delivery time = processing time + shipping time

(not including customs delays, weekends, holidays and any unforeseen circumstances)

Processing Time: 1-2 business days

Standard Shipping Time: 6-9 business days

PS. For orders to South America and the Russian Federation, shipping may take more than 1 month due to transport and customs issues.


4. How can I track my order?

Once your order is shipped, we will send you an email with the corresponding information. After that you will be able to track your order at https://www.17track.net/en. Please allow 1-2 business days for tracking information to be available.



5. What if the package doesn't arrive?

If you don't get your package 60 days after it was shipped, please contact us at support@rosezoe.com. We'll either resent a new one to you or give you a full refund.



7. Can I cancel or change my order?

If you would like to cancel or make changes to your order, please contact us within 24 hours after you made the order. No cancellation or changes could be applied to the order once it goes into preparation for delivery.
The surface of all rose toys is made of safe silicone
Interior contains ABS plastic