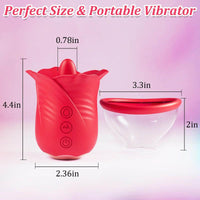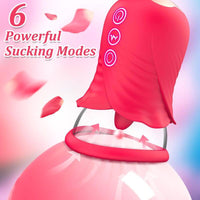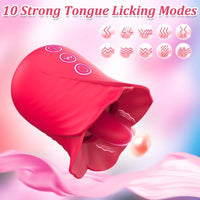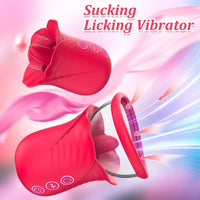 Rose Sex Toy Adult Toys - Womens Sex Toys Sucking Vibrator
Description:
Indulge in a symphony of sensations with our 2-in-1 Licking & Sucking Vibrator, meticulously crafted for an exuberant rendezvous with pleasure. The rose-shaped allure isn't just a feast for the eyes, but a journey of ecstasy awaiting your embarkation. Boasting a removable suction cup alongside a tender, flexible tongue, this enchanting gadget invites you to a realm where clitoral stimulation marries tongue-licking delight.
Feel the rhythm of desire with its 10 captivating vibrating modes. The soft, flexible tongue dances gracefully, serenading your senses with a myriad of vibrations that escalate at your command. Toggle through the frequencies, each a verse of pleasure in the poetic narrative of intimacy.
The allure doesn't end here. With 6 powerful sucking modes, this epitome of pleasure offers an orchestration of sensations. The removable suction cup is your ticket to a spectacle of delights, each mode a fresh stanza in your intimate play. Relish the repertoire of pleasure with or without the suction cup, a versatile feature adding a layer of excitement to your explorations.
Crafted from high-quality, body-safe silicone, this sensual artifact assures a safe passage in your voyage of desire. Its waterproof essence makes it a companion in your aquatic adventures, beckoning the waves of exhilaration even as you bask in the caress of water.
Charging is a breeze with the magnetic USB cable, ensuring your companion is ever-ready for an encore. And fear not, discretion is our hymn. Your treasure will arrive in a discreet package, guarding your privacy as fervently as it promises a carnival of sensations.
Explore, indulge, and traverse the landscapes of desire with our 2-in-1 Licking & Sucking Vibrator, a tribute to the endless poetry of pleasure.
Key Features
2-in-1 Functionality: Offers both clitoral sucking stimulation and tongue-licking pleasure due to its dual design with a removable suction cup and a flexible tongue.

Variety of Modes: Comes with 10 strong vibrating modes and 6 powerful sucking modes, allowing for a tailored pleasure experience.

High-Quality Material: Made from body-safe silicone ensuring a safe and comfortable use.

Waterproof Feature: Enables enjoyment in aquatic settings such as the bath or swimming pool, adding to its versatility.

Easy Charging: Equipped with a magnetic USB charging cable for convenient recharging.

Discreet Packaging: Ensures privacy with its discreet packaging, fostering a worry-free purchase.

Versatile Pleasure: The removable suction cup offers different pleasure experiences, catering to personal preferences.

Engaging Design: The rose-shaped aesthetic not only looks appealing but enhances the sensual ambiance, making the product more enticing.

Ease of Use: Easy to switch between different frequencies and modes, making it user-friendly.

Playful and Sensual: While maintaining a level of professionalism and discretion, the playful design and sensual functionality invite a fun and enticing experience.
1. How much does shipping cost?

You can enjoy free shipping on orders over US$69. Otherwise, it costs US$3.5.

If you order items in clearances or free items, you will be charged for shipping fee separately.

If you need express shipping, you could choose it at checkout, which costs US$25 (not available at the moment).

PS. We have free shipping site-wide promotions during sale season. Stay tuned!



2. Will I have to pay taxes?

Each country has its own customs rules and policies. Please contact local customs for more information. If, in rare cases, import duties or taxes are charged, the customer is responsible for paying them.



3. How long will it take for my order to arrive?

Total delivery time = processing time + shipping time

(not including customs delays, weekends, holidays and any unforeseen circumstances)

Processing Time: 1-2 business days

Standard Shipping Time: 6-9 business days

PS. For orders to South America and the Russian Federation, shipping may take more than 1 month due to transport and customs issues.


4. How can I track my order?

Once your order is shipped, we will send you an email with the corresponding information. After that you will be able to track your order at https://www.17track.net/en. Please allow 1-2 business days for tracking information to be available.



5. What if the package doesn't arrive?

If you don't get your package 60 days after it was shipped, please contact us at support@rosezoe.com. We'll either resent a new one to you or give you a full refund.



7. Can I cancel or change my order?

If you would like to cancel or make changes to your order, please contact us within 24 hours after you made the order. No cancellation or changes could be applied to the order once it goes into preparation for delivery.
The surface of all rose toys is made of safe silicone
Interior contains ABS plastic