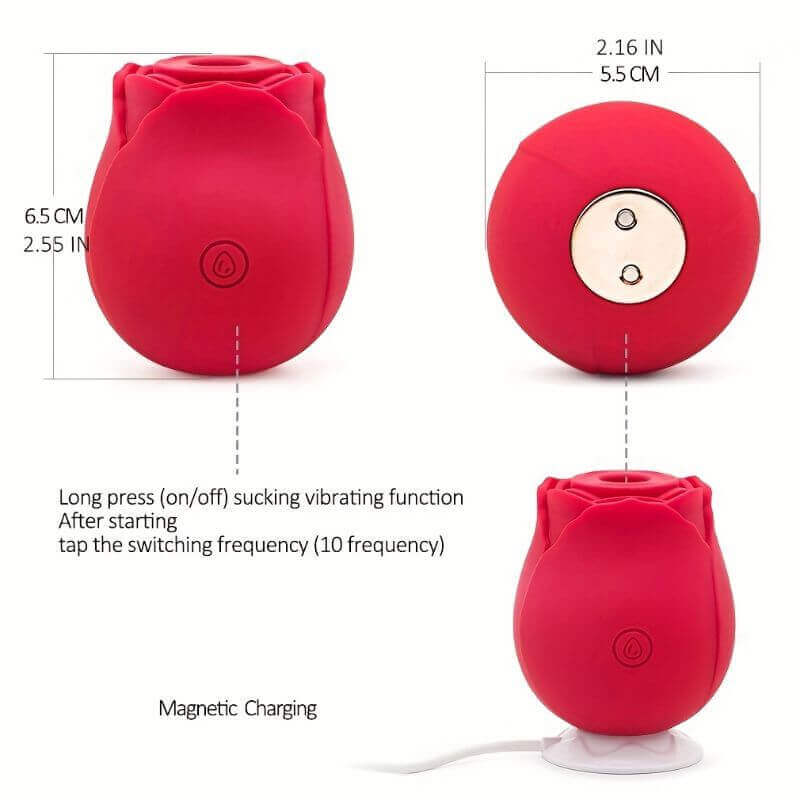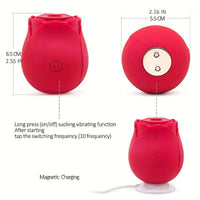 Rose Toy for Women with 10 Sucking & Virbrator Modes
Versatile Massage Modes
Harness the power of an exceptional motor, offering a broad range of thrusting speeds and vibrating modes. This customizable experience allows you to discover unique forms of pleasure and pinpoint your personal favorite.


Superior Water Resistance
Elevate your bath time with the rose vibrator for women, featuring high-grade water resistance and corrosion-resistant properties. It's the ideal companion for indulgence in wet environments.


Portable & Discreet
Enjoy your personal pleasure time anywhere, anytime, with this compact-sized vibrator. Its subtle design makes it a perfect secret companion, and it doubles as an ideal gift for friends and family.


Premium Quality Material
Experience the silky touch of certified silicone. Ensuring a safe and odorless experience, this soft, smooth material adds a layer of unparalleled comfort.


Efficient Magnetic Charging
Power up your pleasure with ease using the included USB cable. The magnetic charging design allows for connections to phone chargers, computers, power banks, and even car chargers, facilitating convenient recharges wherever you go.


Silent Vibration Modes
Discover ten distinct, silent vibration modes, each offering the versatility of rapid and slow vibrations. Privacy is paramount, and the quiet operation of this rose toy ensures your intimate moments stay discreet.


Waterproof & Whisper Quiet
  Revel in wet and wild fun with the waterproof design that pairs perfectly with the whisper-quiet operation. Maintain your privacy, whether in the shower or the bedroom.


Ergonomic Design
  Engage with an optimized head shape made from skin-friendly silicone. Its ergonomic design ensures gentle and precise contact, enhancing your intimate experience.


Product Specifications
Material: Silicone, ABS
Power Supply: USB charging
Duration: 120 minutes on a 1.5-hour charge
Size: Overall length 2.6 inches, Suck buckle length 1.5 inches
Color: As shown


Package Includes
Rose Toy For Women ™
USB Charger


Discreet Packaging & Dependable Service
We prioritize your privacy and guarantee discreet packaging to maintain confidentiality. Our customer service is reliable and responsive. If you encounter any issues, don't hesitate to reach out.


12-Month Warranty
Purchase directly from us to benefit from comprehensive after-sales service. If you have any concerns, we're here to assist you without delay.


Order Fulfillment
Due to high demand, your order will be posted within 24 hours. Most orders arrive in 4-7 business days.


Our Guarantee
We stand behind our innovative product with unwavering confidence, offering a satisfaction guarantee to support our claim. If you're unsatisfied for any reason, we will strive to ensure your positive experience, providing a hassle-free, no-questions-asked full refund if necessary.




Material: Body-safe silicone + ABS 

Stimulation Modes: 10 sucking modes 

Weight: 117g (lightweight and easy to handle)

Size: 2.62.12,1 inches (perfect for your nightstand or travel bag)

Battery capacity: Lithium battery 3.7V/240mAh 

Charging time: about 60min 
Working time: 120 minutes 

Charging mode: Magnetic suction USB charging 

Maximum noise: <45dB (keep it on the DL)

Waterproof performance: IPX7 (shower time just got even better)
Please rinse the main part with warm water and antibacterial soap and rinse with hot water. When cleaning, you should prevent the switch and power supply from being immersed in water, rub it gently with your fingers while rinsing, and do not use a brush or acidic cleaning agents to clean it. Finally, dry with a clean towel.
1 x rose toy
1 x Magnetic Base
1 x instruction manual
Introducing
Rose Toy
Not only does it vibrate, but it also sucks!
10 Sucking Modes

10 vibrating & sucking modes

Discreet Shipping

Keep the contents a secret

Body Safety

Body-safe silicone + ABS

Waterproof

Take bath time to the next level
Sucking and Vibrating Modes
The rose toy is designed to provide double stimulation through its sucking and vibrating features, which work in tandem to enhance pleasure and satisfaction. The toy is shaped like a rose and features a soft and flexible exterior that can be easily manipulated to suit individual preferences. Its powerful motor produces intense vibrations, while the sucking function provides a realistic and lifelike sensation that mimics oral sex.

It's like kissing jelly
The rose toy is not only designed for vibration, but it also features a unique sucking function that provides a soft and gentle suction, making it ideal for those who enjoy a more sensual experience. The toy's suction is adjustable, allowing users to customize the intensity to their desired level. The rose toy's suction is particularly effective when used to suck on soft and pliable materials, such as jelly. This allows users to enjoy the softness of the suction without causing any bruises or tingling sensations. The toy's soft and flexible exterior also adds to the overall sensation, providing a realistic and comfortable feel.

How do I use rose toy?
1. Press and hold the power button for 2 seconds to turn on the rose vibrator.
2. A short press on the power button changes the vibration pattern of the licking. The clitoral vibrator has 10 different modes.
3. Press and hold the power button for 2 seconds to turn off the rose vibrator.

Complete Tutorial: How to Use Rose Toy
IPX7 Waterproof
Dive into a new world of pleasure with the 100% waterproof rose toy! This bad boy can be used in the shower, bathtub, or any other wet environment you desire. You can even take it for a swim with you! The waterproof feature also makes cleaning up a breeze, so you can focus on the fun without any worries. The rose toy's soft and flexible exterior is perfect for those who want to explore different angles and positions in the water.
Size and Weight
Size: 2.5*2.2*2.2 Inch
Weight: 3.7 oz